成人头条 Reconfiguration, Implementation: Phase III
Notice of Motion: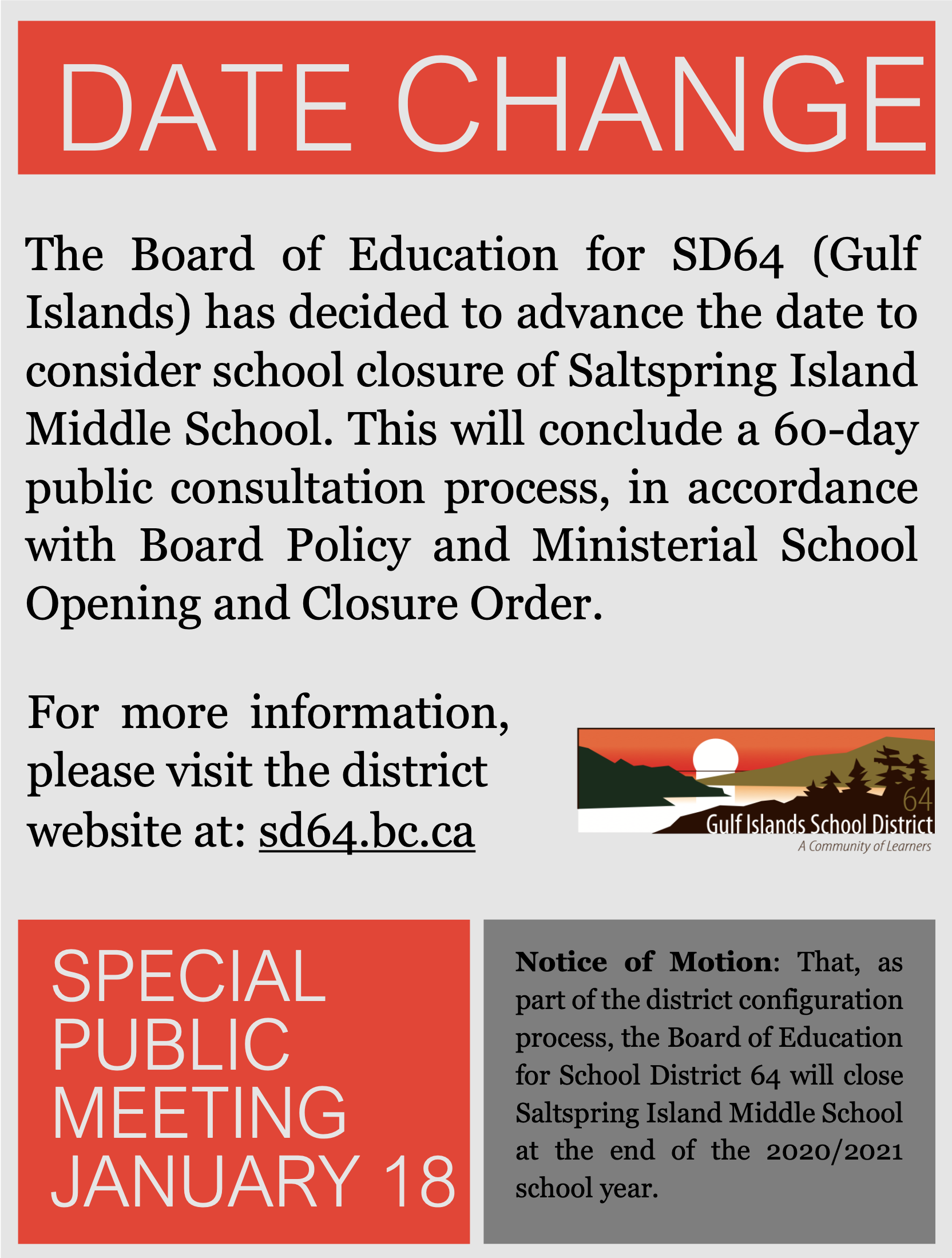 Pursuant to Board Procedure 635 – Permanent School Closure, the Board of Education gives notice of its intent to close Saltspring Island Middle School at the end of the 2020/2021 school year.
UPDATE: The motion will be voted on at a Special Public Board Meeting, on January 18, 2021.
Motion: That, as part of the district configuration process, the Board of Education for School 成人头条 64 will close Salt Spring Island Middle School at the end of the 2020/2021 School year.
An agenda and meeting link will be posted here prior to the meeting.
---
Special Notice Regarding GISPA and French Immersion
Please be assured that, although service may look different dependent on the closure of Saltspring Middle School, it is the intent of the 成人头条 to continue to offer both French Immersion and GISPA programs. There has been no discussion or decision by the Board to discontinue access for SD64 students now or in the years to follow.
---
View Poster:
View Poster:
At its Regular Public Meeting on November 18, 2020, the Board of Education passed the following motion to adopt a revised district configuration that supports student learning, maintains options and access to programs for Gulf Islands students to the best extent possible, and addresses the current financial deficit.
That the Board approves the operationalization of Configuration Scenario 4b, effective September 2021, with a transition year and the following implementation considerations:
GISS becomes the catchment school for grade 8 – 12 students on Salt Spring Island. Salt Spring Island elementary schools will be configured as Kindergarten to grade 7.
For the 2021/2022 school year only, Salt Spring Island students entering grade 7, currently registered in grade 6 at SIMS, will remain in attendance at the SIMS location for a transitional year.
For the 2021/2022 school year only, Galiano, Mayne, Pender and Saturna students in grade 8 may attend either their home island school or Pender Islands School. Students in grades 9 to 12 will have the option to attend either Pender Islands School or GISS.
For subsequent years, commencing September 2022, students from Galiano, Mayne, Pender and Saturna, in grades 8 and 9, will attend Pender Islands School as their catchment school. Students in grades 10 to 12 will have the option to attend GISS for their graduation program.
Access to French Immersion will be granted through to graduation without interruption, for students currently registered in French Immersion.
Ridership on the student water taxi to Salt Spring Island Schools will be provided to all students successfully registered in French Immersion and/or GISPA, and to those students who require Inclusive Education services as indicated in the student's Individual Education Plan.
Students from Salt Spring Island, in grades 8 to 12, will have the option to attend Pender Islands School.
The decision follows a twenty-five-month process and more than a year of consultation, review, and study. Some of these changes will be experienced differently across the district and, as indicated in the motion, will be implemented over the next two years to provide the time to make adjustments.